2016 MTV VMAs
We've heard the highlights – from Yeezy's 4 minute long speech to the way Rihanna cheekily allegedly dodged (or did she?) Drake's peck on the lips. What we didn't realise was the casual and subtle way black women took over the 2016 VMAs with sheer talent and ingenuity.
RIHANNA WON THE VANGUARD AWARD
Riri blew the crowd away with her back-to-back medley of her entire career. From the very first of the discography with Don't Stop The Music, to Rude Boy, What's My Name, Bitch Better Have My Money, and Stay. We don't know what's going on with the Rihanna / Drake rumours, but we can definitely confirm Drake was the epitome of the heart eyes emoji as he presented the Michael Jackson Vanguard Award to Rihanna!
FOUR FOR YOU, BEY
Beyonce made an undeniable political statement when she invited four women to join her on the red carpet for the 2016 VMAs. These women were Sybrina Fulton, Gwen Carr, Lezley McSpadden and Wanda Johnson. They were mothers of four men who were innocently killed in encounters with law enforcement – Trayvon Martin, Eric Garner, Michael Brown and Oscar Grant III. It was a powerful monumental statement, as the death of these men gave rise to the Black Lives Matter movement.
THANKS FOR THE LEMONADE
The crowning moment of the night – Beyonce's performance of Lemonade was out of this world. Did we accidentally stumble across a Beyonce concert while watching the live stream of the VMAs? The Queen brought down the house as she delivered a powerhouse medley of Lemonade for a full 15 minutes. We'll leave you with a full video of her performance – if you haven't seen it already.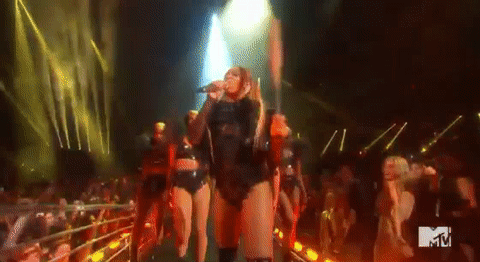 Yup, the Queen floored us.